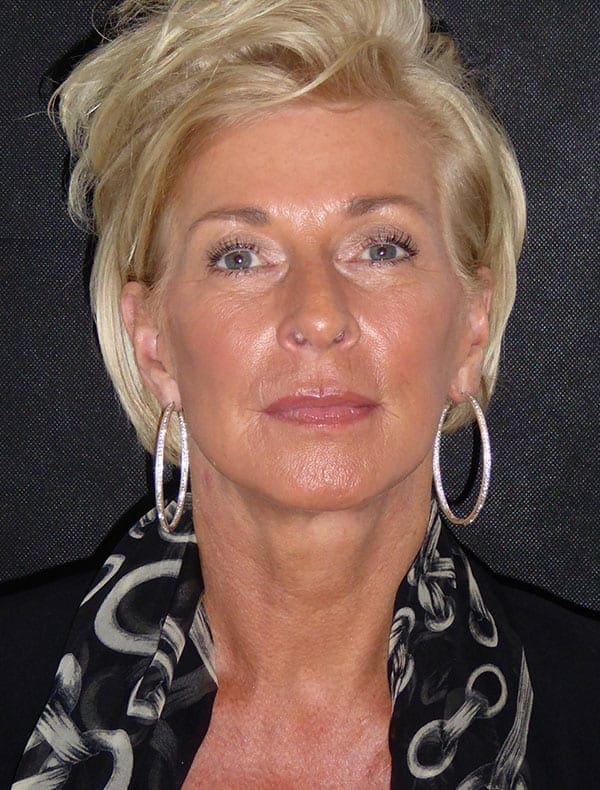 Karen (58)
FACE NECK LIFT
Karen is a beautiful woman who consulted me about rejuvenating her neck.
Descent of her mid facial soft tissue had caused early jowling and secondary neck skin laxity. We undertook a local anaesthetic face and neck lift with platysmaplasty through a small incision under her chin.

One Day


After Surgery

Karen's surgery was unexpectedly extensive.

After repairing the midline neck band there was quite a lot of lax skin. This needed more dissection of the neck than I would usually do for a face and neck lift but was necessary to achieve the best result. Karen's neck may be more bruised from this but it should all heal quickly. Already (15 hours after surgery) she looks fantastic. Her facial shape is rejuvenated and her neck and jaw lines are defined.

One Week


After Surgery

One week following surgery Karen looks beautiful.

A little bruising in the neck as expected will settle in the next few days. Her neck bands have gone and her jowls have been lifted to the mid face. She looks fresher, defined and youthful. Her scars are coming on nicely too and should be imperceptible in a few weeks.

Five Weeks


After Surgery

Here is Karen at 5 weeks after her surgery. She looks amazing. rejuvenated, natural and defined. She looks like herself, just better!

Friends keep commenting on how well she looks and they are right, she looks fantastic. I have never felt any result I have achieved is 100% perfect – there is always room for improvement which drives me to innovate and refine – but Karen is close! I have copied a close up of her scars today below.

Four Months


After Surgery

Karen at 4 months is fully healed visibly.

Molecular healing of scars takes up to 18 months but at this stage, this is Karen's long term result. Rejuvenated, refined and radiant. This is my idea of natural facelifting, Karen looks exactly like herself just better. Below is a picture of her scars for comparison at this stage.

One Year


After Surgery

At a year Karen is back to see me looking more glamorous than ever. Is this really a lady now in her 60's?! Her lift is holding brilliantly, neck and jawlines beautifully defined and her scars are invisible.

A wonderful result for a brilliant patient. It has been such a pleasure to look after her.

Four Years


After Surgery

It is so lovely to see Karen again after four years, she would now like to have upper eyelid surgery which I will do shortly and update.

Her surgery is long lasting and she remains beautifully defined – she has barely aged in the last 4 years and is still looking fantastic.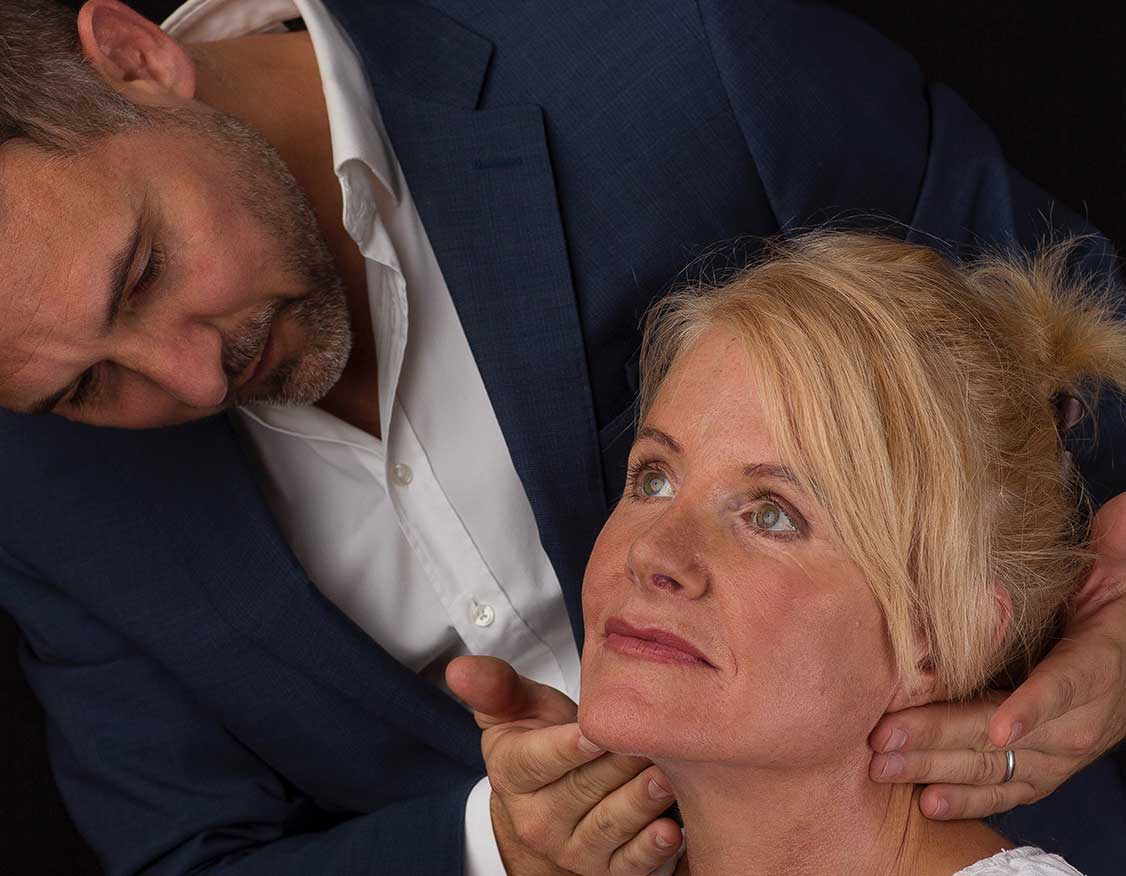 Considering

Facelift Surgery?
The definitive guide to anyone considering facelift and neck lift surgery at our London or Tunbridge Wells locations. Essential research for potential patients.
Read this first