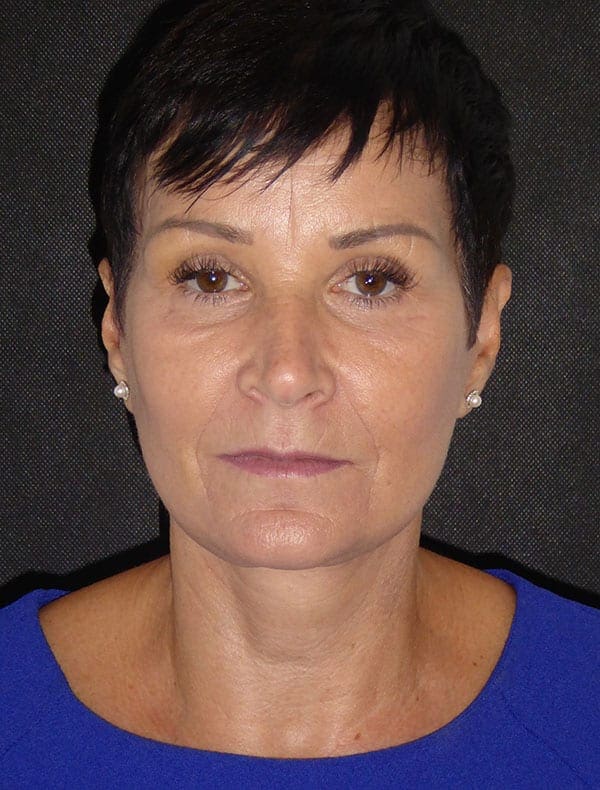 Lorraine (57)
FACE NECK LIFT, LATERAL BROWLIFT, UPPER & LOWER BLEPHAROPLASTY, & LOWER EYELID CO2 LASER
Lorraine sought my help with freshening her appearance. A lovely lady with good natural facial proportion, felt her face had changed in recent years.
The main areas that bothered her was the lower face, jowls and neck and also her lower eyelid skin excess. We undertook a face and neck lift, platysmaplasty, lateral brow lift and lower eyelid skin pinch blepharoplasty. This is her story.

One Day


After Surgery

The morning after surgery and Lorraine is doing brilliantly.

That neckline is extraordinary and the jowl volume has been replace by nice volume in her cheeks. Lower eyelid surgery always looks fairly gruesome in the early post operative period but when heals remarkably quickly. Looking forward to seeing her progress.

Three Days


After Surgery

It always feels cruel bringing patients back at day 3 after facelifts when I am sure they would rather be hidden away at home but in those who have had lower eyelid surgery I like to these remove stitches sooner.

It is a good opportunity to see the facial swelling at its peak. Lorraine looks great considering! it is too soon for the majority of her bruising to come out and I expect some under eye and deep neck bruises will be there at a week. Lorraine's facial contour has been radically rejuvenated, I suspect when fully healed she will look and feel great.

One Week


After Surgery

Lorraine is back at a week for removal of her facial stitches.

All is healing beautifully and her new face shape is softer revolumised and rejuvenated. Her under eye incisions are healing fantastically well and her neck and jawlines are nicely defined. I suspect she will have a brilliant result.

Filter Frontal View 3/4 View Profile View Incisions 3D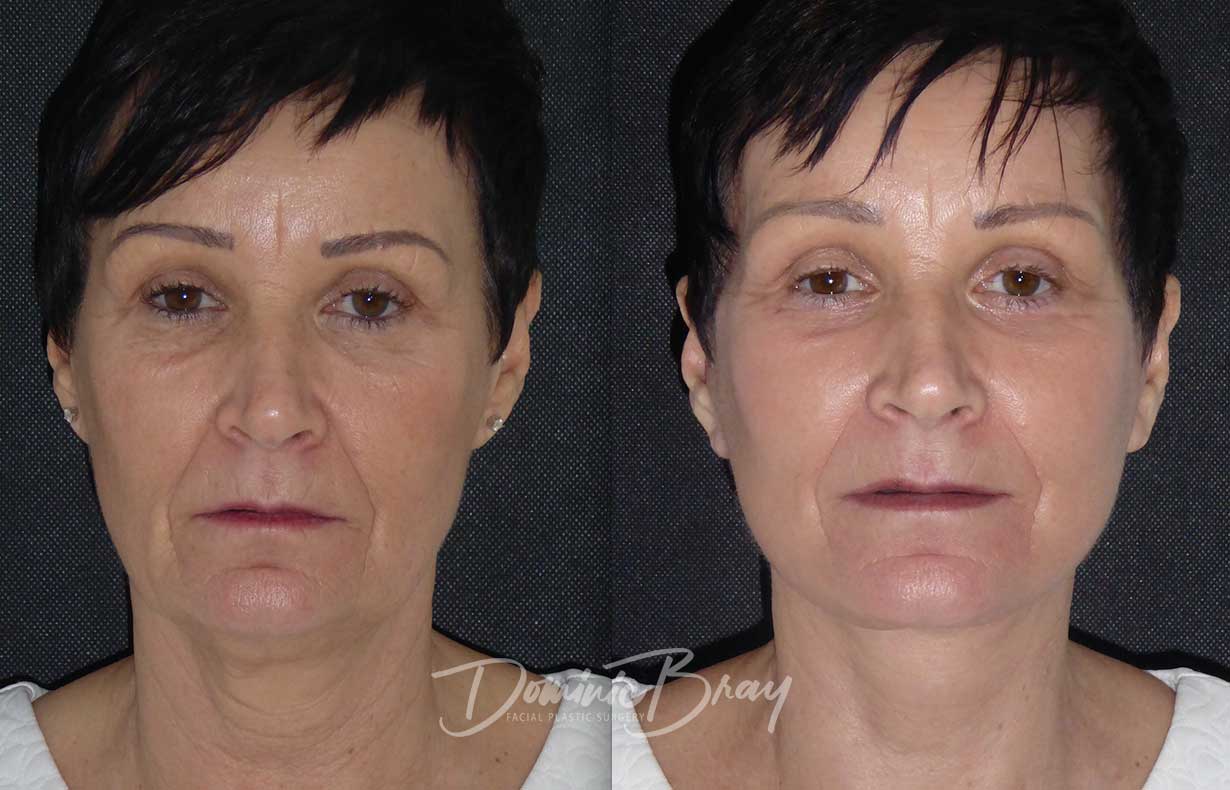 Five Weeks


After Surgery

A few weeks later, Lorraine is back for review. She has settled beautifully into her new face and looks fresh and rejuvenated.

Everything is healing well, I have just removed a few dissolvable suture remnants from her incision line which looks redder after my picking but is going to heal inconspicuously. A little wrinkle reducing injections between the brow and filler in the nasolabial lines should finish Lorraine's transformation perfectly.

Three Months


After Surgery

3 months from her surgery, Lorraine is back to see me, she looks just amazing. Her whole face (and demeanour!) is lifted and harmonious.

Rebecca has put some injectable finishing touches to volumise the mid face and soften the folds. Lorraine has a structurally symmetrical face which is now balanced and beautiful, her jaw and neck lines are defined and her eyes beautifully framed. I am so delighted for her – a lovely result.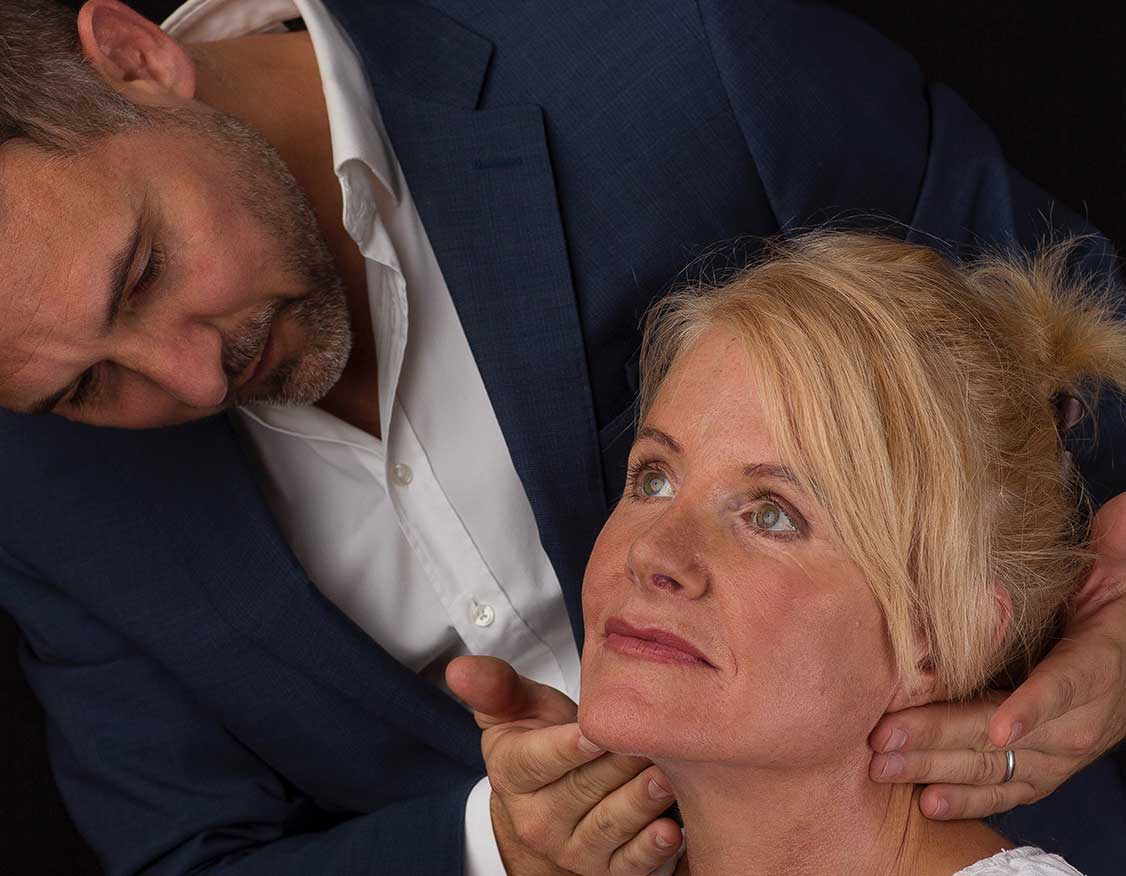 Considering

Facelift Surgery?
The definitive guide to anyone considering facelift and neck lift surgery at our London or Tunbridge Wells locations. Essential research for potential patients.
Read this first