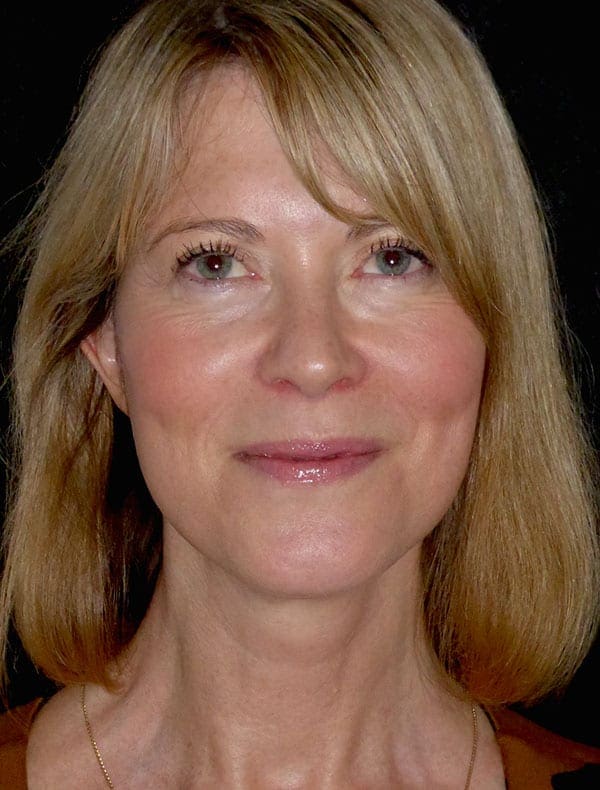 Debs (52)
FACE NECK LIFT, & LATERAL BROWLIFT
Debbie is another lovely patient who sought help with freshening her look after a decade of caring for her family and now grown up child with specific needs.
We looked at old photos and under her loose lower facial third skin lay a fantastic jawline bony structure. She had beautiful clear eyes that just weren't framed properly by the surrounding hollowing and upper lid skin. After discussion we decided to do a facelift, necklift and brow lift under local anaesthetic. Here is the story of her progress.

One Day


After Surgery

The morning after facelift surgery the afternoon before. Debbie already has a fantastic result.

That jawline is now visible and the skin quality and under eye hollowing has clearly improved. She has a small bruise around her left eye (sorry Debbie!) from the brow lift, but this will settle within a couple of weeks. Her incision line, whilst appearing long, will heal imperceptibly within a few months and is completely covered with her hair. We can review her again in a week.

One Week


After Surgery

Despite exemplary adherence to all post operative instruction and pre op care, poor Debbie has quite a bruise around her right eye from her browlift.

Her make up has been removed for these photos so we can see the exact extent, but as is usual, the bruise is descending into the cheek and will fade completely. Her facelift has been a success. She looks fresher, more youthful and happy. Her neck and jawlines are restored (I will bet her next photos aren't in a turtle neck jumper!) and the mid face is volumised with the tissue that had previously occupied her jowl. Let's see in seven days….

Two Weeks


After Surgery

Debbie is back at 13 days after Facelift, Neck lift and brow lift for review …. and no sign of the turtle neck jumper – a great sign that things are healing nicely!

She looks radiant. Her skin is in beautiful condition, supple voluminous and wrinkle free. Her jaw and neck lines are delicately curved and the last of the bruising should disappear within a few days.

Four Weeks


After Surgery

Debs is back for review at exactly 4 weeks and looking refreshed. Swelling and bruising has gone and her mid face looks supple and volumised, jawline defined and neck smooth.

Her scars are beautifully flat now and will lighten over the next few months. Prescription skin care now for her spots of facial hyperpigmentation should really benefit her.

Three Months


After Surgery

Debs is back for review. Her skin is glowing after starting a prescription skincare regime 6 weeks ago.

Her hyperpigmentation has evened out and fresh healthy skin is is immediately obvious. Her scars have healed exquisitely and are barely noticeably except under magnified close inspection

Six Months


After Surgery

6 months after her surgery, Debs looks amazing.

Her skin is glowing having continued on a prescription skincare program and she has had very little relaxation of her facial soft tissues. Her jawline and neck remain beautifully defined and her brow has a pleasing arch with good upper lid show. The scars in her hairline are completely unnoticeable.

One Year


After Surgery

Approaching the anniversary of Debs' face neck and brow lift. She looks radiant.

Her skin is completely transformed and she has settled beautifully into her rejuvenated appearance. A year on there is very little relaxation and she will have a long lasting and lovely result. Just brilliant!!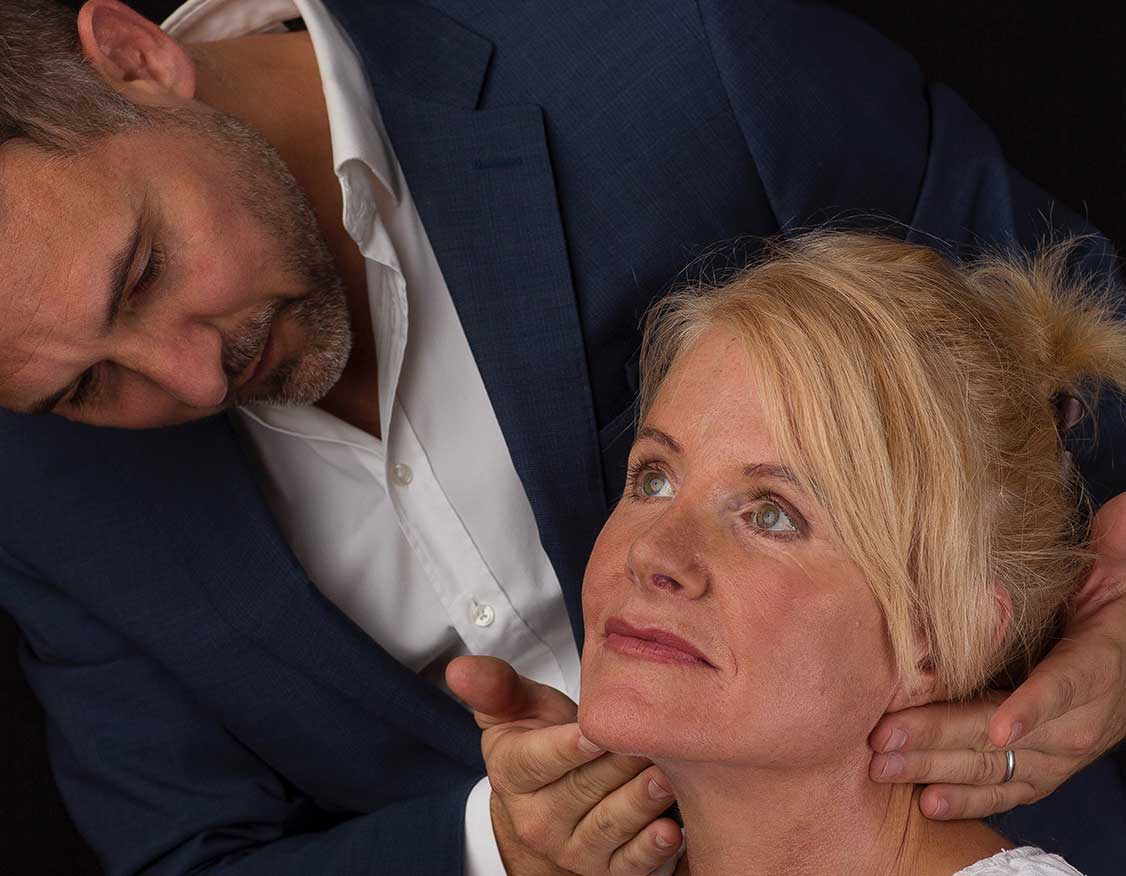 Considering

Facelift Surgery?
The definitive guide to anyone considering facelift and neck lift surgery at our London or Tunbridge Wells locations. Essential research for potential patients.
Read this first