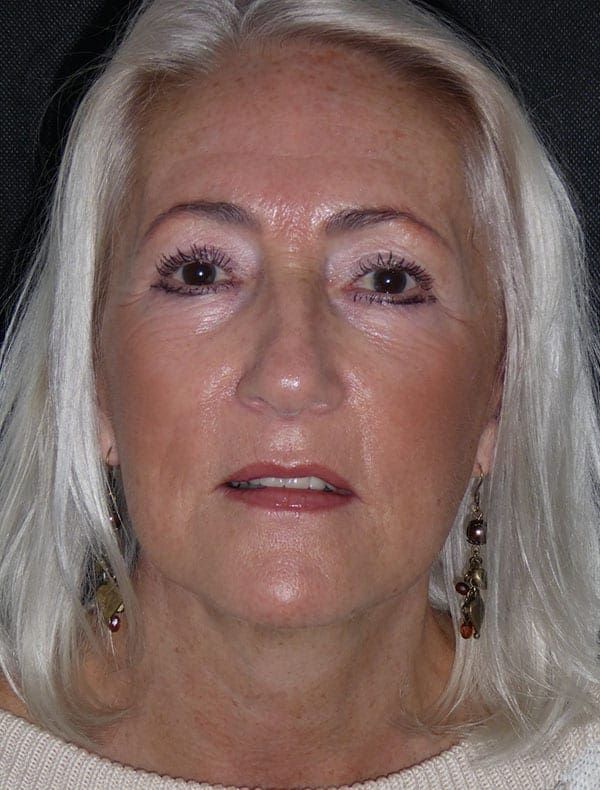 Jennifer (64)
FACE NECK LIFT
Lovely Jennifer sought my advice about a subtle freshening of her appearance. She has a condition that causes constant and triggered facial pain and as a sufferer she wanted to see a surgeon who specialised only in facelifting (which to this day remains an exclusive club of one!)
We discussed the risks which did include a worsening of her condition but I felt that her aesthetic ideals could be achieved with a conservative lateral compartment only left. Whilst she did have some laxity of the skin in the neck I felt we could get her a more youthful appearance without opening under the chin (platysmaplasty). I also suggested a transconjunctival lower lid fat pad and laser procedure but Jennifer elected to consider this later on. She also asked me to remove a small mole on her right nasolabial fold. This is Jennifer's journey

One Day


After Surgery

An uncomplicated and easy procedure, the day after Jennifer's new facial shape is already evident.

A little bruising already that will come to the fore in a few days will be helped with ice and rest over the weekend.
Filter Frontal View 3/4 View Profile View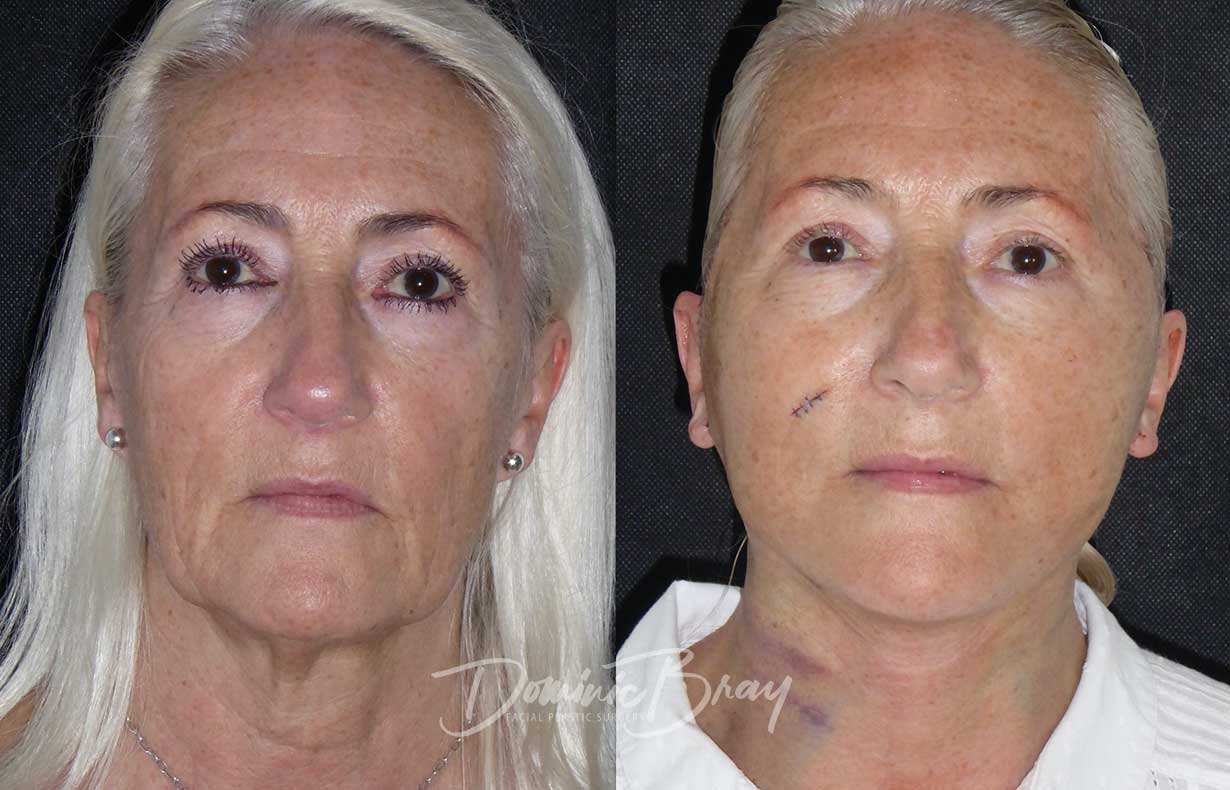 Filter Frontal View 3/4 View Profile View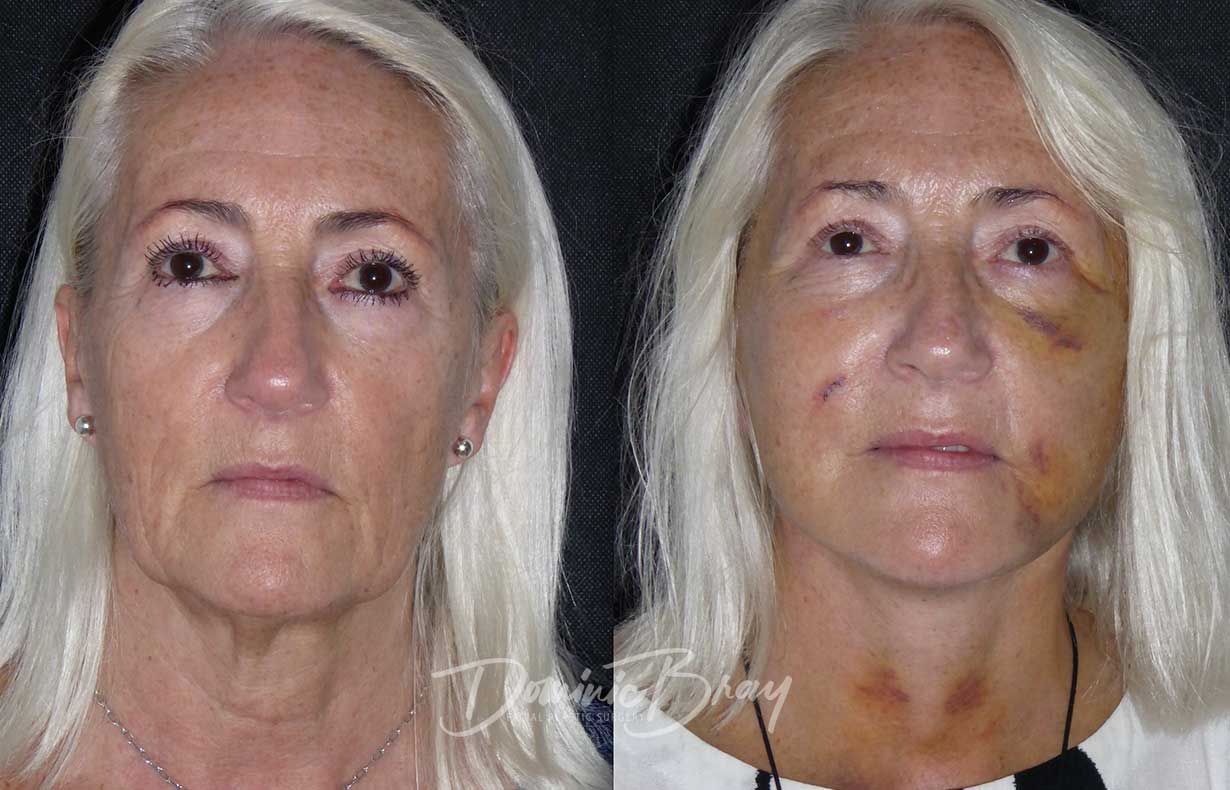 One Week


After Surgery

A week after her surgery Jennifer is back for removal of her stitches.

All healing well, a bit of bruising on the left side that has come from nowhere but nothing that needs intervention. Swelling should start to dissipate now as her new facial she emerges. She is going to start her prescription skincare which will make a huge further improvement.

One Month


After Surgery

Just a couple of weeks later and what a difference it makes. Jennifer's face is fresher and more proportionate. Just gorgeous.

A little relaxation to go her final result will be visible at 3 months. Her skin is already starting to look better as the old sun damaged skin is exfoliated and new skin emerges. Her scars (below) are healing beautifully as is her mole removal incision.

Filter Frontal View 3/4 View Profile View 3D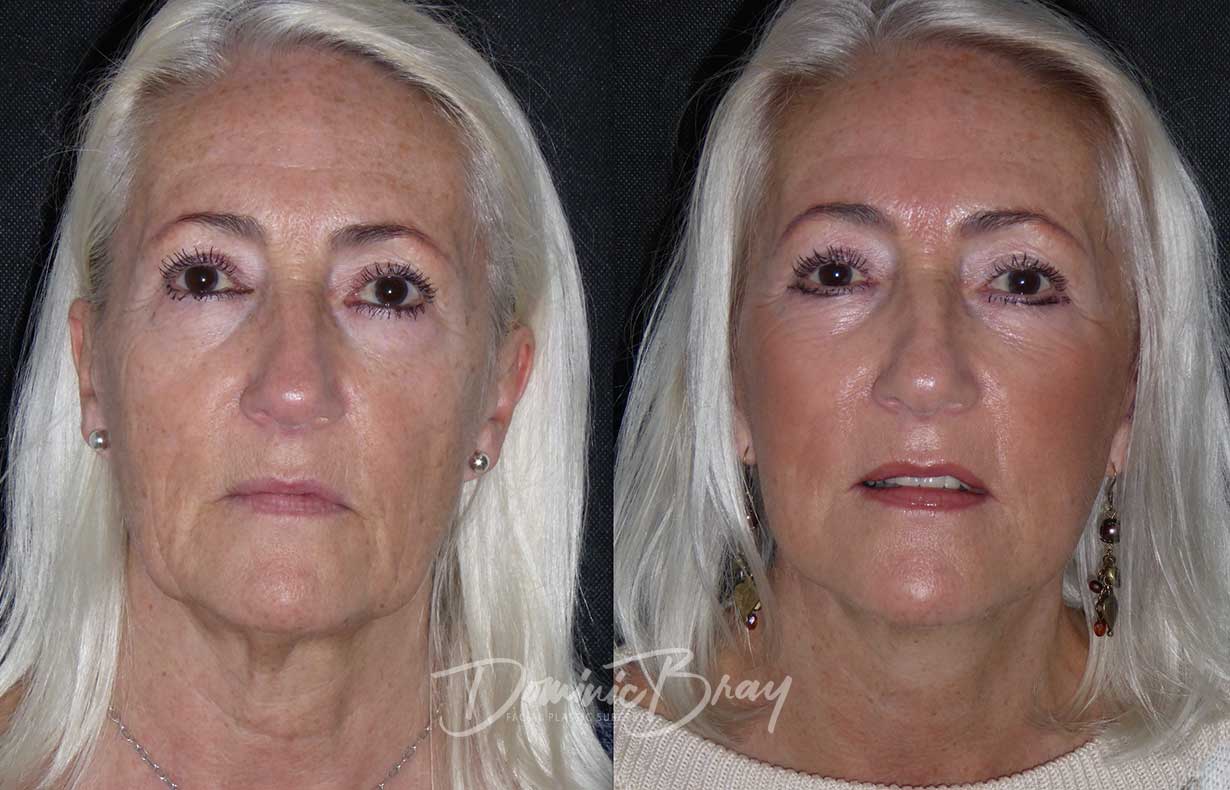 Four Months


After Surgery

The 4 month mark has arrived and Jennifer looks just wonderful. Fresher, contoured and really well.

A sweeping jawline and revolumised mid face gives her a youthful glow and no sign of exacerbation of her trigeminal neuralgia. Jennifer's skin is transformed – infact, the eagle eyed will spot residual pigmentation where her cream application has missed along the forehead hairline! In the next section, I'll use the 3D Vectra analysis to explain the skin changes on prescribed skin care.

Skin Changes


At Four Months

This slide shows pigmentation analysis today compared with before any treatment. Rejuvenating skin is a complex process and no one miracle cream will work no matter how expensive it is or whether it is marketed as 'dermatologically tested' – whatever that means!

Skin rejuvenation is a multifactorial and multiple depth process. Hyper-pigmentation, wrinkling, crepiness, laxity, pore size and cell turnover all need to be addressed concurrently and if one is left out, like the lottery there is no jackpot. This is why I constantly refer to skin care as a supervised prescription skincare regime. The key word here is supervised as no face is the same. Jennifer has been on a combination of topical creams morning and night that address cell turnover, skin thickness, pigmentation, wrinkling and pore size co dependently. The pigmentation analysis opposite shows the changes achieved. What we are looking for is homogeneity of brown spots. On the left, there are noticeable islands of hyper pigmentation but after 8 weeks treatment these are more homogenous leading to clearer skin. We can see in analytical format the upper forehead area which has accidentally been spared treatment by the persistence of heterogeneous islands in this area.
Filter Pigmentation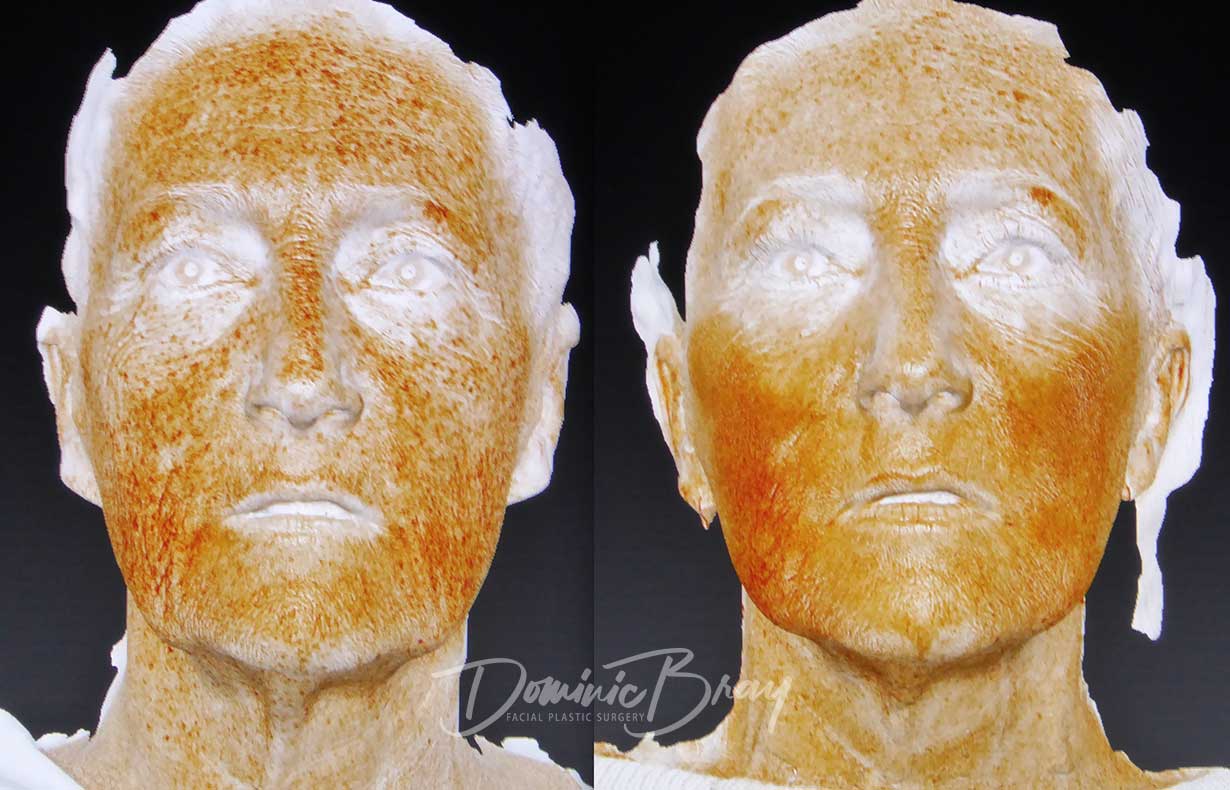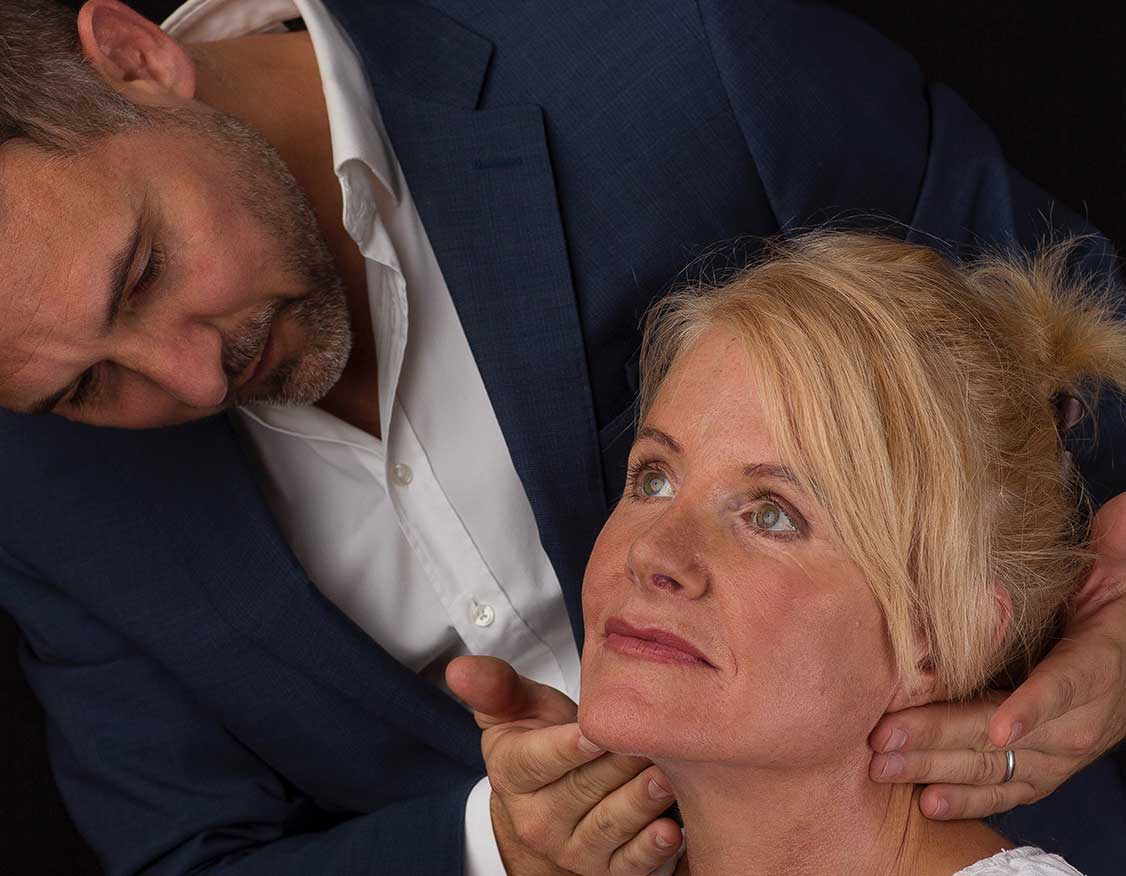 Considering

Facelift Surgery?
The definitive guide to anyone considering facelift and neck lift surgery at our London or Tunbridge Wells locations. Essential research for potential patients.
Read this first