Maxine (72)
FACE NECK LIFT, & PLATYSMAPLASTY
Maxine came to see me after I had performed facelift surgery on several of her friends. She had previously undergone facelifting and revision facelifting in London several years before but has never been happy with the outcome of her neck.
She had a taught mid face and excess skin in the lower facial third and neck which I see regularly with traditional techniques. I made no promises as I had no idea what lay beneath regards scarring and previous intervention but felt that I could improve her concerns with a revision face and neck lift and platysmplasty / liposuction. Here is her story.

One Day


After Surgery

Well that was hard work! Dense scar tissue extending deep into the neck and disrupted tissue planes meant that Maxine needed over 6 hours of surgery under local anaesthetic and sedation to really achieve the best result I could for her.

Despite this she slept throughout and the morning after looks fantastic. Really very little bruising considering, a little expected swelling makes the tissues appear tighter but overall her face is much more balanced, volumes in the right place and that neck skin excess has now gone. I look forward to seeing her at a week.

One Week


After Surgery

Maxine has come back for one week review and WOW! … she looks stunning. Fully made up and styled. You wouldn't know she had undergone a 3rd revision face and neck lift only a week before. Extraordinary.

Where do I start?! Her poor scarring has been removed and refashioned, her earlobes reduced and set back into position, her hairline is now back to where it should be and her mid face is no longer hollowed; she has pleasing mid facial definition, and her neck and jawline are back. The remaining crepy skin will contract beautifully with laser which can be performed in the clinic in a few weeks. This was a difficult case and I am really pleased Maxine has had such a lovely result. It couldn't have happened to a nicer person.

Four Weeks


After Surgery

Here is Maxine four weeks after her third revision facelift, and she can't stop smiling! I have had to use this frontal photo with a wry smile as the others are full beaming smiles which aren't an exact comparison!

I am seeing a lot of revision patients currently, probably one in every two consultations. Most of whom have been told by other surgeons that further facelifting isn't possible or they will look too pulled. The beauty of the technique that I have developed is that it can correct the vector of pull of previous facelifts and restore volume to the midface without fat transfer or fillers. There is no doubt that secondary and tertiary facelifting is harder and more technical but if done sympathetically and gently it can have beautiful results. Maxine is perfect proof of this!

Three Months


After Surgery

Here is Maxine at 3 months following revision facelift surgery.

Her scars have healed really well and her mid facial volume remains. The midface has been lifted which has improved her hollowed lower eyelids from previous surgery. She looks refreshed, rejuvenated and really well.

One Year


After Surgery

A year after her revision face and neck lift, Maxine's result is holding up really well.

The neck which previously caused her so much concern and which several others surgeons had told her would not be possible to improve continues to look much better. Her rounded eyes from previous lower lid surgery maintain their rejuvenated appearance after the mid face lift. Her face now suits her wonderfully happy and infectious personality. I will be sad to not be seeing her for regular follow up now she has had her annual review, but no doubt she will pop in from time to time!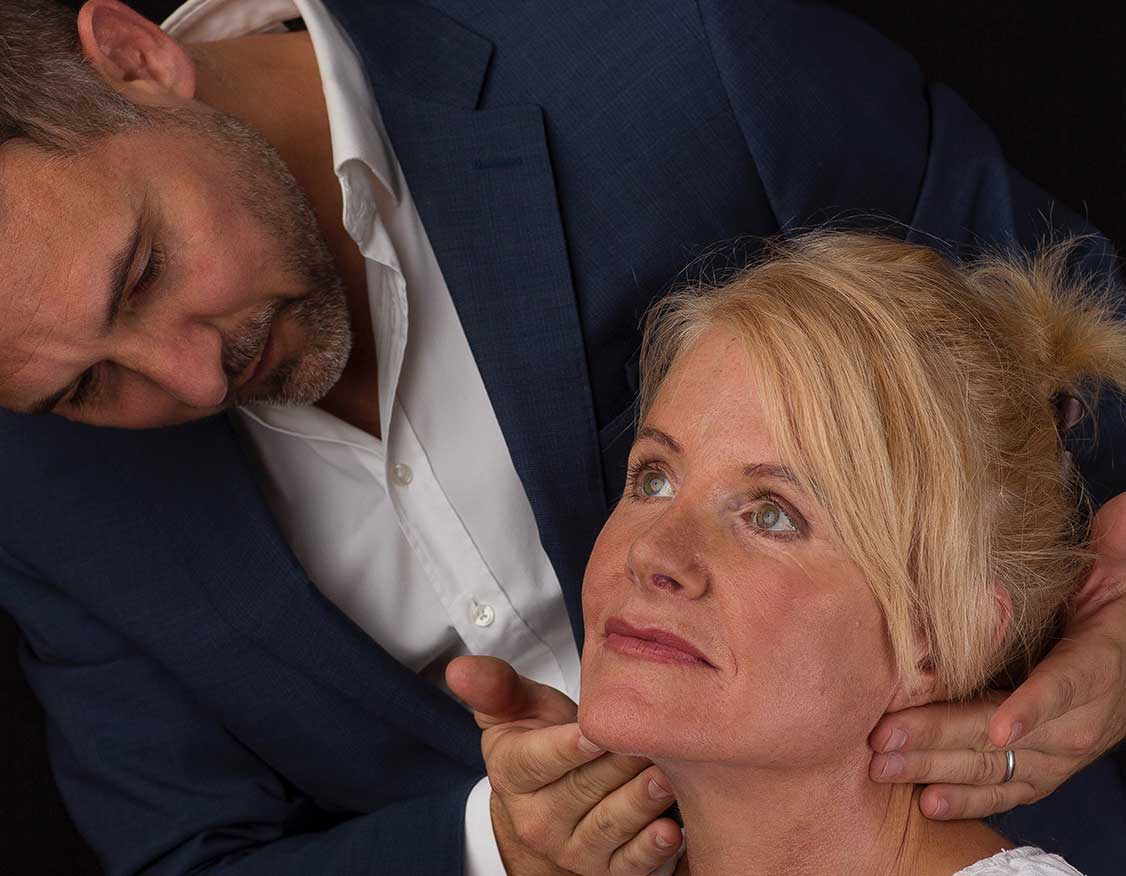 Considering

Facelift Surgery?
The definitive guide to anyone considering facelift and neck lift surgery at our London or Tunbridge Wells locations. Essential research for potential patients.
Read this first