Tania (56)
REVISION FACE NECK LIFT, & PLATYSMAPLASTY
Tania underwent a face and neck lift and platysmaplasty just over a year before consulting me regarding a revision procedure. Her result had left her with an irregular jawline on both sides, a lump under the right jawbone, a tethered scarred vertical band in the midline neck, a paralysis of the right lip depressor muscle and a hollow in the left cheek.
A year after surgery it is unlikely that the lip function will fully return but I felt I would be able to get her a more symmetrical result with revision surgery. There are obviously higher risks to revision surgery and it is a case of opening up, some detective work and then repair but I felt I could achieve this under local anaesthetic and sedation. Here is her story.

One Day


After Surgery

About half of my work is revision facelift surgery, sometimes it is simple, but in Tania's case I need to use all the tools I have at my disposal!

I started under the chin where the tethered vertical band and under jawline lump lay. The band was due to a failed platysma repair and scarred migrated platysma muscle edge. Dissecting out the scar tissue, there was very little muscle left on that side so I rotated a muscle flap up to close the defect and perform a new repair. The lump was an irregular fat mass which I sculpted down and then resuspended the submandibular gland. (best seen on the 3D vectra view below).

In the face the left SMAS had split causing a triangular depression which I repaired as much as possible with what tissue was available then I relifted the SMAS creating a surprising amount of vertical excess skin which was removed. Closure was under a little more tension than I wanted as the previous lift was a more backwards vector. I suspect Tania will need a little filler in the residual triangular defect in the left cheek and also to a depression along the right jawline but her initial result is really encouraging. Looking forward to seeing her progress.
Filter Frontal View 3/4 View Profile View 3D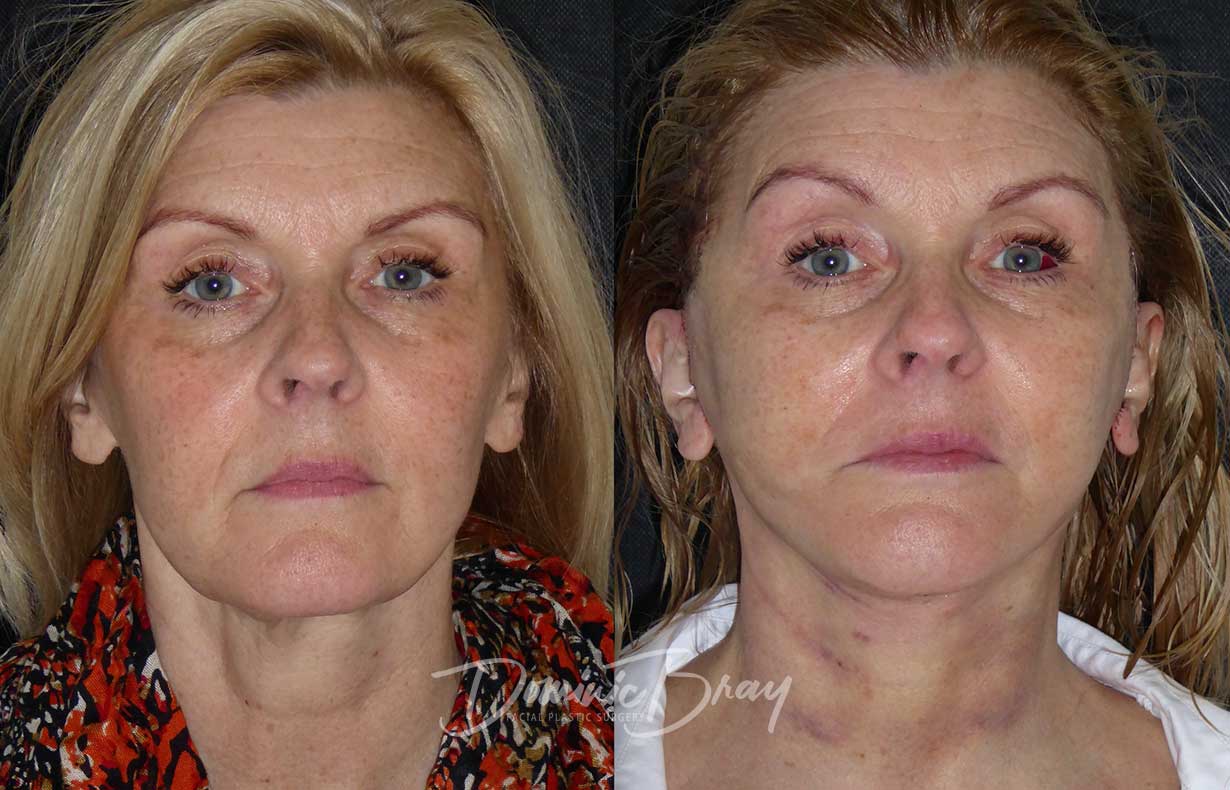 Filter Frontal View 3/4 View Profile View 3D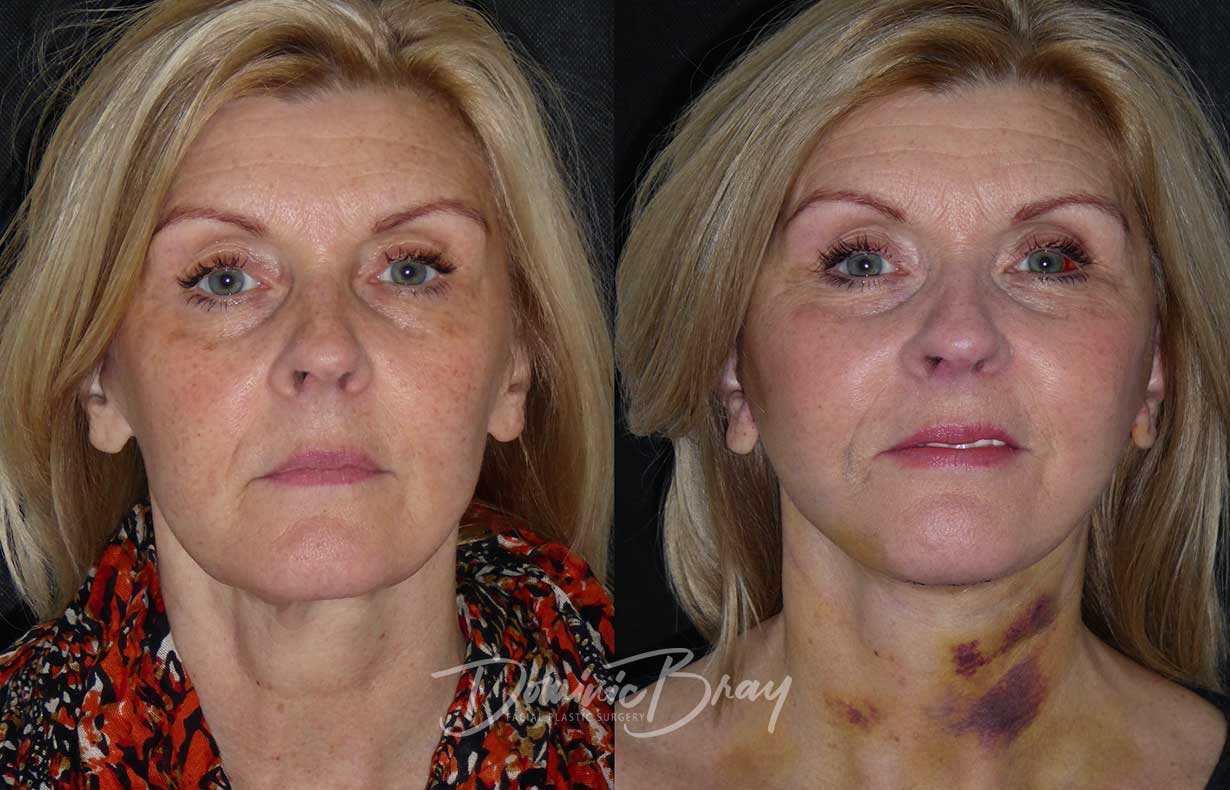 One Week


After Surgery

Tania is back to see me at a week and doing really well considering the extent of her surgery. Her new facial shape is apparent as swelling decreases.

Her right lower lip is a little (more) sleepy than before but should improve over the next few weeks. The 3D scan shows the initial improvement in under chin contour. Hopefully she is on her way to a lovely result from her revision.

Four Weeks


After Surgery

4 weeks out Tania is doing brilliantly. He new hair colour is just fantastic and really suits her new facial shape.

The under chin laxity is holding up nicely and her jaw and neck lines are beautifully defined, softer and much more natural looking. Her scars are well on their way to healing invisibly as can be seen from the picture below. She might need a little filler in the jawline depression going forward but she already has the makings of a lovely youthful result.
Filter Frontal View 3/4 View Profile View Incisions 3D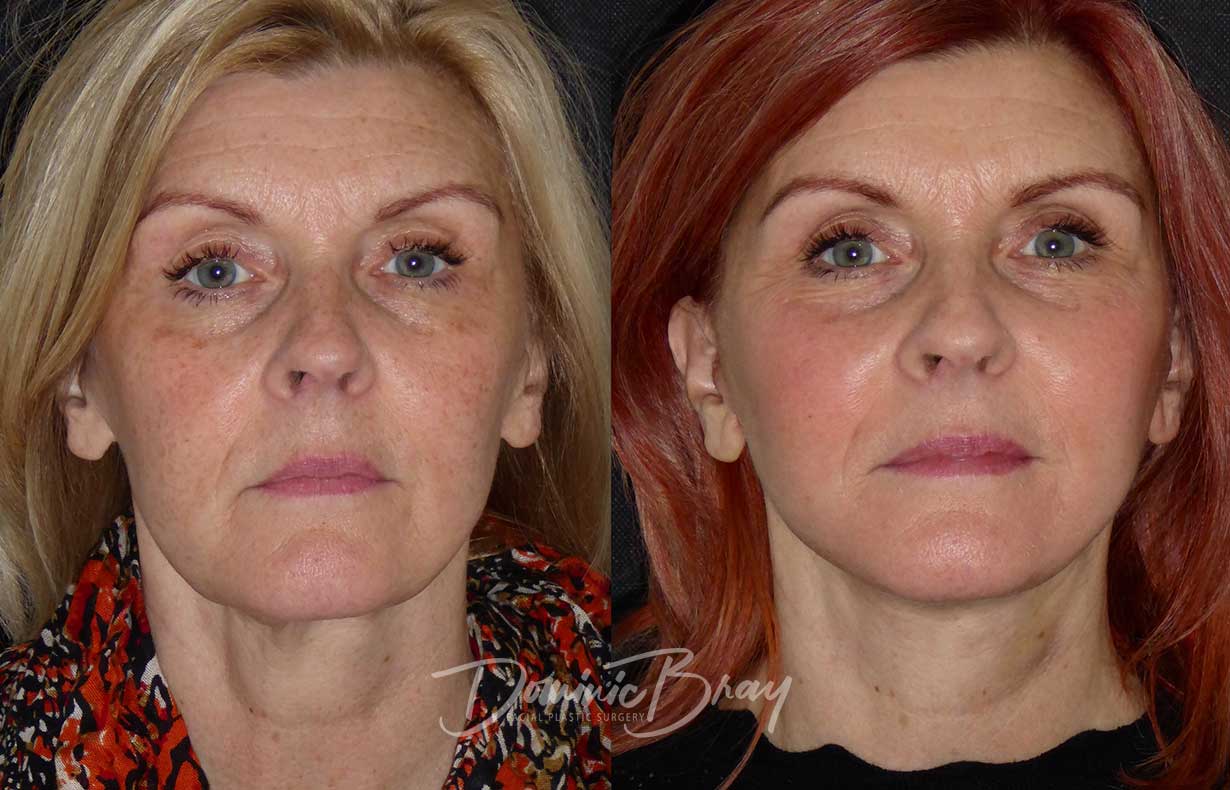 Three Months


After Surgery

Here is Tania 3 months out from her revision surgery.

All has now healed beautifully, softened and relaxed to beautiful natural symmetric result. I am so pleased for her, she has been a pleasure to look after.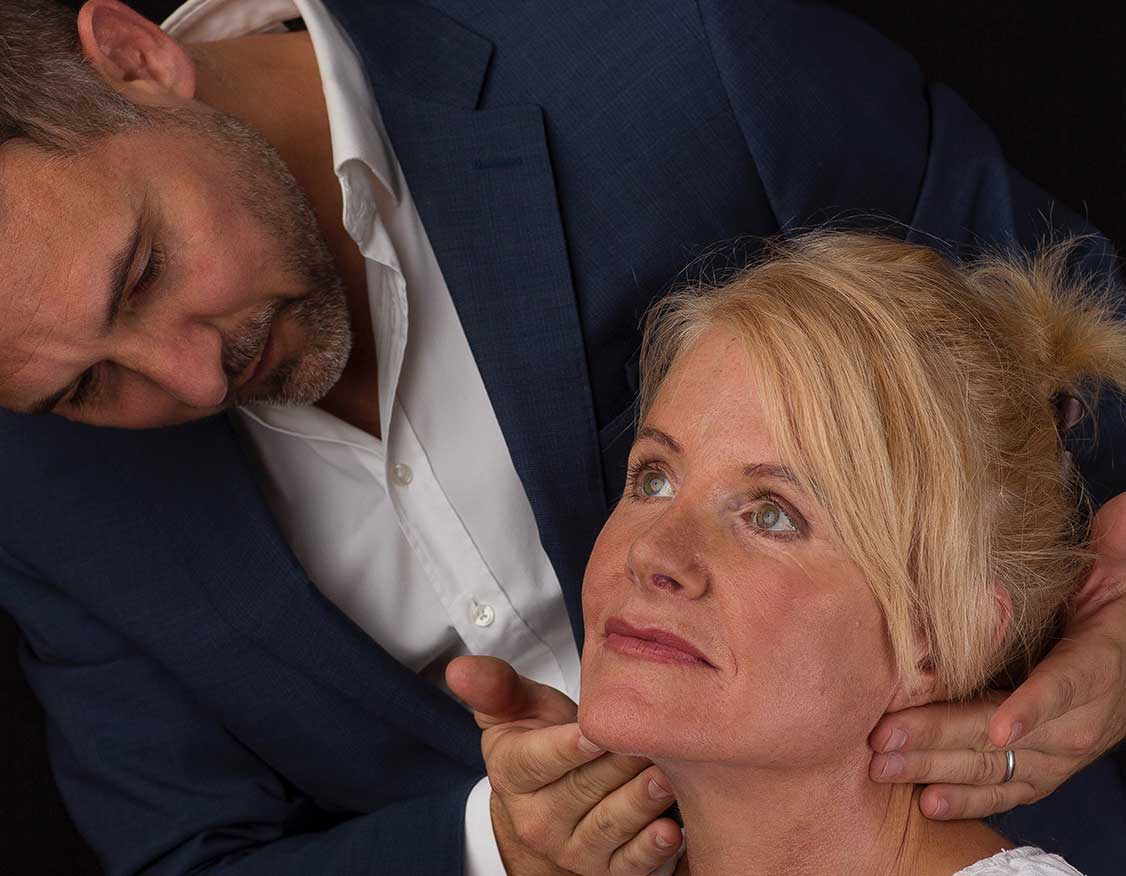 Considering

Facelift Surgery?
The definitive guide to anyone considering facelift and neck lift surgery at our London or Tunbridge Wells locations. Essential research for potential patients.
Read this first