How to Get Rid of Forehead lines
Forehead lines are a common sign of ageing, and yet they can be distressing nonetheless.
The lines can be relatively pronounced, making us appear that bit older than we would wish.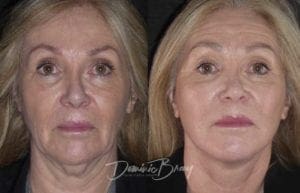 Very visible forehead lines can also give the impression that we are worried, or sad – they do not suggest vibrancy, or a more youthful glow.
Given they can be of concern both aesthetically and psychologically, many seek treatment to rid themselves or reduce their forehead lines.
Anyone considering having their forehead lines treated should rest assured that there are suitable treatments.
In this post, Dominic Bray, a world-renowned facial surgeon who specialises in procedures for the head and neck, outlines the best ways to get rid of prominent forehead lines.
What Causes Forehead Wrinkles?
Lines and wrinkles in the forehead – and indeed other parts of the face – are mainly caused through ageing.
As we age, our skin loses its elasticity, this caused in part through natural depletion of collagen and elastin.
Other factors will also influence both when they start to appear and also how visible they become – these include genetics, our exposure to the sun throughout our life and also the amount of movement we inflict on these muscles.
The more we move muscles in our forehead, the more likely the lines are to slowly develop.
There is also some research to suggest that exposure to stress can exaggerate common signs of ageing.
Ultimately, however, it perhaps does not matter what causes the lines in any individual case, what is of more importance is that they have emerged and whether there is a suitable treatment.
Prevention vs Cure
The mantra that prevention is better than cure is true for many aspects of our health and appearance.
Can it also apply to the signs of ageing?
The answer is that it can to an extent. Our lifestyle choices can slow down and limit the impact of visible signs of ageing, but we cannot then reverse changes that have already occurred.
With regard to lines and wrinkles in the forehead region, we can certainly give ourselves the best chances of limiting the development of these lines.
We can:
Eat nutritious food
Not smoke
Stay hydrated
Limit sun exposure (and always use sun lotion)
Try to avoid stress (appreciating that this may not always be possible)
Ensure we get a good night's sleep
Moisturise
Try to avoid squinting
Many of these will also boost our overall health.
However, they will not magically make forehead lines disappear.
Home Remedies
There are many creams and home remedies that market their ability to address the signs of ageing; there are also all sorts of strange and wonderful exercises you can find on the likes of YouTube.
To address the latter first, there is no forehead exercise that will be effective in removing lines and wrinkles – in fact they may have the opposite effect given you are simply moving this area more and so potentially causing lines to develop further.
Creams and lotions are similar to the items listed in the prevention section – they can certainly slow the onset of forehead lines, but they cannot make them disappear.
There is value to moisturising, and using a good quality moisturiser at that, but once the ageing has occurred and is visible, there needs to be some form of more invasive treatment to resolve the problem.
No One Size Fits All Approach
In a web page, it is impossible to state what the best option would be in any specific case of ageing, including for forehead lines.
Some might have just the very first hint of lines appearing, others will have far more deep-set lines that are visible at all times. This form of patient might have multiple signs of ageing they wish to have tackled at the same time.
For some, injections such as Botox might be a suitable non-invasive treatment, providing a subtle change to appearance, albeit on a very temporary basis.
Botox might be recommended for a younger patient who has only started to display the first, subtle signs of ageing.
Others would benefit far more from cosmetic surgery, this could produce the profound changes you seek and also be an option that produces results that have far greater longevity.
Consultation for Forehead Lines
In all instances, the process should begin with a thorough and detailed consultation.
This is your chance to talk, explain your concerns and the results you wish to achieve and for the surgeon or clinician to listen.
For many, the benefits sought go beyond the purely aesthetic, addressing the signs of ageing can also boost confidence and self-esteem and so lead to improvements in all areas of life.
At a consultation with Dominic Bray, he would carefully assess your signs of ageing, taking measurements and photographs.
He would factor in your medical history and also look at historical photos to see how you have aged over the years.
This would all factor into his work to suggest a plan of best action.
This may be for surgery, or it may be that he believes a procedure to be premature.
A respected surgeon will only ever recommend a procedure or treatment that is truly in a prospective patient's best interests.
It is essential that you are fully informed.
Dominic Bray would give you his recommendation, outline the results achievable and explain why he recommends a certain option or a choice of options.
A thorough quote would also be provided, this for you to consider at your leisure.
The Surgical Procedure
The removal of frown lines is a common procedure for plastic surgeons specialising in facial surgery.
One way in which Dominic Bray stands out is that he uses local anaesthetic rather than general – the patient is every bit as comfortable, but the recovery time is greatly reduced.
Indeed, patients literally walk out of the operating theatre and are often back home the same day, this very different to the lengthy, and uncomfortable feelings of coming round from a more powerful anaesthetic.
The precise nature of surgery would vary on a patient-by-patient basis.
In all instances, scarring would be kept to an absolute minimum, and typically hidden in the hairline.
Experienced plastic facial surgeons such as Dominic Bray also know to allow for a little initial over correction, this ensures that as swelling subsides the final results are as hoped for.
Without this initial over correction, the end results can ultimately be underwhelming.
The skill of the surgeon lies in producing a profound change, giving you the more youthful look you desire, yet also for you to still look natural and yourself.
Comments will be that you look great – rejuvenated – not 'oh, have you had work done?
How Dominic Bray Differs
There are many plastic surgeons who can offer treatments to treat forehead wrinkles in London so why consider Dominic Bray?
His results are stunning, as you can see from the before and after image gallery.
These results are achieved because Dominic specialises, whereas many cosmetic surgeons are allrounders and perform a huge range of procedures on all parts of the body, he has chosen to specialise and dedicate himself to facial and neck surgery.
As a result, everything he does is geared towards procedures such as reducing the appearance of jowls, from his skills, through to the team he works with and even the facility whereby you would undergo surgery .
Patients benefit from a private, dedicated hospital set up by Dominic rather than leased space in a large private hospital.
– Dominic's CV is stunning and you can read more about him on this site through a detailed resume and also information on his ethos. A few key points are listed below
–   Dominic has stunning, independent reviews. Please take the time to read testimonials – and do this for any surgeon you may consider. He has more than 200 independent, verified reviews and almost without exception these are for 5 stars.
–   Dominic was the first UK surgeon to be invited to sit on an expert panel to discuss management of facelift complications at the American Academy of Facial Plastic Surgery annual meeting.
–   A significant proportion of his work is with patients referred for revision surgery – improving the flawed work of other surgeons.
–   His qualifications, training, prizes, memberships and publications stand comparison with any. You can see full details on the About Page.
–   Dominic has undertaken specialist higher training in Otolaryngology – face and neck surgery. There are many cosmetic surgeons who perform neck lifts as part of what they offer – for Dominic this is his specialism.
Please take the time to get a sense for Dominic and his ethos. If you have any further questions or would like to arrange a consultation, do not hesitate to get in touch.
Call us on 0203 417 9980 or use the Contact Form.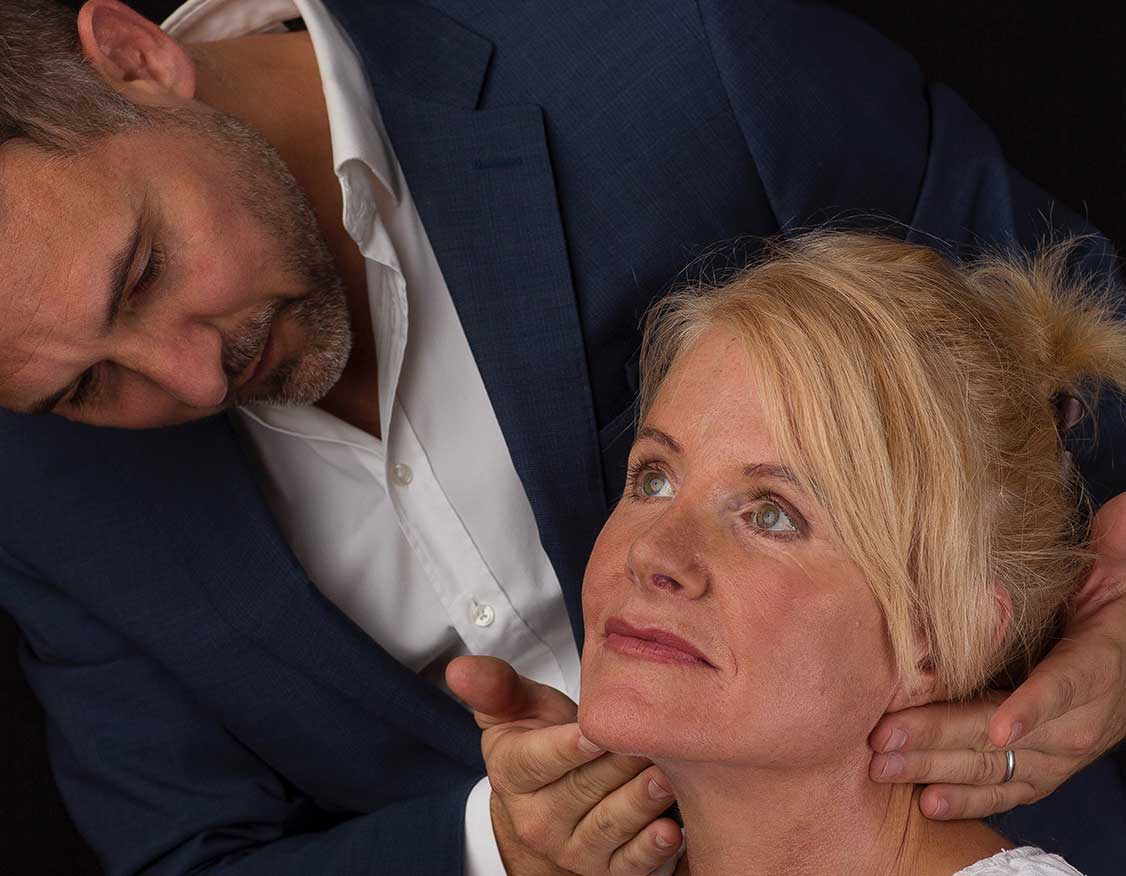 Considering

Facelift Surgery?
The definitive guide to anyone considering facelift and neck lift surgery at our London or Tunbridge Wells locations. Essential research for potential patients.
Read this first