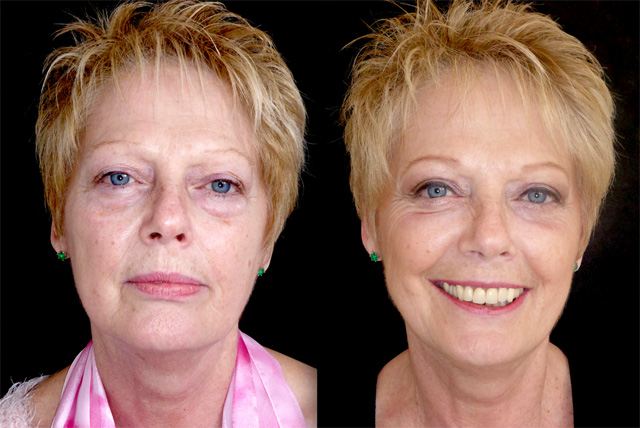 Jan, 62
Every time i looked in the mirror those horrible eye bags stared back at me, I looked tired all the time but inside i was still the young fun loving person I have always been.Having my eye bags removed is something I have wanted to do for over 20 years. What better incentive than marrying my lovely man in sunny Barbados this April. I won't have to look at those awful bags staring back from my wedding photographs.
Dominic Bray and PHI Clinic was recommend to me by a family member who has nothing but praise for the work Dominic does there. He also said how a lot of the work is carried out by Twilight sedation and local anesthesia as this aided recovery time. I had already carried out a lot of research on Upper Blepharoplasty and lower Transconjunctival Blepharoplasty. I had already seen two consultants at other clinics whom I did not feel over confident about prior to meeting Dominic at PHI. I was not disappointed. From the time I walked in and was greeted by very welcoming staff I was immediately made to feel at ease. Dominic came through and introduced himself and again made me feel very welcome and at ease with his cheerful,confident friendly and yet professional manor.
He took both myself and my fiance through to his consulting rooms where we sat and talked about what I was hoping to achieve and why and how long had I wanted for the procedure to be done. Dominic took a lot of photos from different angles before he went on to explain how when he looks at the face he breaks it down into sections as in some cases one type of procedure can correct another area without additional surgery. Each case is different. In my case my eye bags could be corrected without any other invasive procedures to give the desired result.
He went on to explain exactly what he could do and how, he also said I would benefit from Co2 laser resurfacing of the lower eyelid skin to smooth out the area once the fat was removed to smooth the skin. This would be done by Dr. Tapan Patel after Dominic had finished his surgery. I met Dr Patel the same afternoon and he explained how the procedure would benefit the finished look. He asked a few questions and gave his expert opinion. Nothing was hurried.
All of our questions were answered thoroughly and honestly. Nothing was too much trouble and I was not pushed into making a decision of any kind. I knew instinctively I could trust Dominic implicitly to give me my 'eyes back'..
I asked if it was feasible for me to have the surgery and recover in time for my wedding. Dominic assured me I had plenty of time, more so because of the Twilight Sedation which he had already discussed with me. We were then shown over the theaters where the surgery was to take place. Every thing was spotlessly clean.
I booked my surgery for the End of February and when the day dawned everything went to plan. Once again all the staff without exception were brilliant, caring and attentive in every way. Dominic talked me through the procedure again to make sure I understood everything and had no qualms. Again his whole demeanor was one of caring, humor and professionalism . I was totally at ease. During surgery I felt virtually nothing but I could hear voices in the distance now and then but otherwise i was drifting off on another planet somewhere. Bruising subsided very very quickly with the aid of lots of ice packs and sleeping upright for the first 5 days which i did find uncomfortable but it had to be done. I would say that was the worst bit, more than any surgery. I was wearing my contact lens albeit only for a few hours a day 11 days after surgery. That says it all... Aftercare was excellent, with post op check ups at the clinic the next day, phone calls and emails to make sure all was well.